Carp2Dragon final performance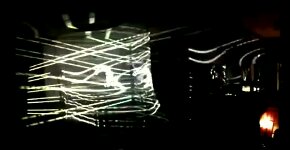 The residency is over. After two long weeks of activities it ends up with a collaborative performance that was really interesting despite the little time we had.
During this resicency I had the chance to discover works from a bunch of south east Asian artist I never met before. Gina and I was so ignorant (still we are) about the local scene and carp2dragon was a good experience to mind the gap.
Every artist had a different background and express trought different practice.
He is a philipinian performer. He focus his practice on body and how he is touched by culture. During the residency Mannet performed a solo called kinetic orquestra. Trought the use of some basic blob tracking analisi and a wiimote he was creating real time sounds. But the point of the perfo was the body, his body, covered after a while of flour, jelly and others substances.
Nice performance full of emotions.
Some video: http://www.youtube.com/mannetsky
Tengal comes from Philippines too, but with a different approach. He is a musicians, curator and independent artist. He is one of the core members organizator of an very interesting festival run in Manila, WSK.
As musicians he has a rich production on live cinema sets and movi OST. During Carp2dragon we perform together an audio visual improvisation that I hope to upload soon.
His practical expand from music to social activism and he his connected to a world wide network.
Check his work at https://soundcloud.com/tengal
Andreas (square solid) is an hacker, engineer and artist. He merge science and technology trought social actions. He build sound machines by hi own and play really nice noise soundscapes.
He his a core member and founder of life patch citizen initiative' introducing hacking, free software and open source technologies towards social change in Indonesia. During the residency he presented his work and organized a workshop about electronic s and building a basic synth-
You can see his works at andreassiagian.wordpress.com
Ricky Janitras
He is an Indonesian artist based in Jakarta. He work with visual culture using main vjs programs like resolume and quartz composer.
During Carp2dragon he made a couple of video improvisation together with Vietnamese artists.
You ca find his works at http://rickyjanitras.com/
Conclusion
This residency organized by Antonio Rosciano was a very good experience for me and Gina to open new windows in our immaginery. I had the feeling that every thing was to fast and wirthba lot of pressure. I would prefer less public events and more time to share with other artist based on real practice.
This time we had just 4 days in which we set up an Open Sound Control orquestra using Gina's movements as input. We are quite happy with the final result beside short time.
Hope you like