Distópia Visuál
"From TV to the newspaper, from publicity to all other mercantile epiphanies, our society malignant sight, judge all the reality on its ability to show or be showed and turn the communications into a gaze's travel."
Michel De Certeau – The Practice of everyday life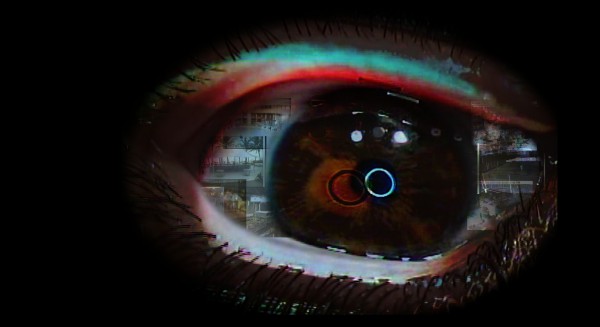 "Be spectator is a hazard practice"
Rafael Sanchez, Mateos Paniagua – Cuerpo suspendido, una imagen-cuerpo contemporanea,
.Enter
DistópiaVisuál is an experiment, a work in progress.
DistópiaVisuál is a surgery, a brief reticular examination of human eye.
DistópiaVisuál is jorney into central contemporary human condition.
DistópiaVisuál is not a lonely jorney but an ocular travel togheter with J.G. Ballard and Michel De certeau.
DistópiaVisuál is a game of lack of attention.
Gaze is the privilege sense of contemporary society.
Every thing is knew primary through sight, vision.
Through images accumulation we learn behaviour, we code rules, acquire social values.
In hyper-mediatic society we build our image of world, in whom eye is the barycentre.
The below material is a starting point. It is our raw material upon on build our investigation and verify our postulate.
We start from a surgery as a research, asking if it self could be a answer.
A permanent modification of gaze could be considered as an active action of resistance against hypertrophy of the vision.
.Video
A surgery to both eyes. Three screen composition from surveillance camera from all around the world. A synthetic voice reads J.G. Ballard's I beleive first, and Michel De Certeau's The practice of every daylife then. A dreamlike music, floating, alienating than moving images but strictly connected to them at the same time.
This are the elements used on that video. A video realized as starting material for our artist research and as video for public screening introducing the project. Twelve minuts travel surgery inside the contemporary distopia.
.Performance
It is a meeting between two subjects. The first, an inconscious spectator of extended and multiply vision of surveillance technology. The second one, a dancing subject, through movements try to engage a reaction to spectator condition. The dancer's movements are an invitation to each other partecipation, spectator, spectators.
A shock to the torpor of spectator that push him to became a partecipant eye of the reality surrounds him. As for the surgery which he have been spectator, this attendance will bring him to a permanent change of his daylife condition.
Destroy his own glasses will be the only symbolic act left him to liberation of the imposed gaze.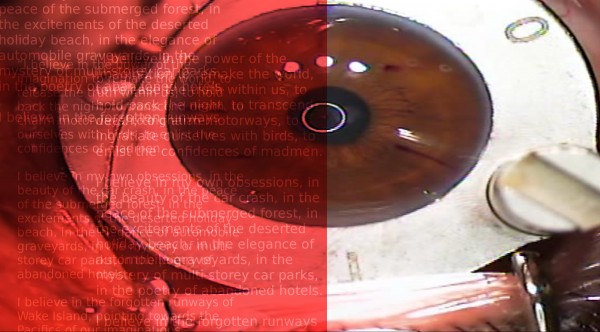 .How
In order to develop  DIstópia Visuál we used just free software.
For the video editing part we used puredata-extended and a specific framework, developed by the collective, pantaliQa. The raw video is scientific material about a real surgery plus the recording from surviellance camera from different parts of the world taked from opentopia.com web community. Audio and video are executed and controllated in real-time from performer and have been recorded using gtk-recordMyDesktop software and final rendered with piTiVi.
The performance provides a video reproduction in the back and a stereo sound system for the audio Both audio and video are controlled in rea-time by the dacenr's movements using a wiimote. During hte performance the public will be recorded and that material will slowly substitute the surviellance video screen.
The interactive installation will analize the position of the eye through openCV system in order to show online surviellance camera from all the world using opentopia community.
.Future Development
Our goal is to create a audio/visual interactive dance piece 20 minutes at least. Once we finished the first chapter, the gaze, we will continues focusing on the touch domain. Feeling of touch as re-discover of the world, as a conscious act of reappropriation of what we have all around; this is the main focus of our future investigation. Accepting a permanent vision's modification the performer begins a chain reaction will push her/him to disclose other senses in the discovering of the world. For this new chapter we want to create a collection of sound tactil objects: every one will be created "in situ" and will be strictly connected at the place where they are realized (residence's place), We want to use this objects on the stage and use them as tactil instruments played by performers and people. We want to engage an investigation on the sound and DIY and low cost technologies for the creation of that objects: contact microphonnes, lowcost biosensor, recycled hardware, are some of the technologies we are interested for experiment with.