Duale performance @ Le Than Theater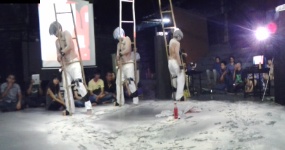 Tomorrow nigth (Vietnam time) we will present our work here in Ho chi Minh. We gonna to perform Duale, an interactive dance performance, work-in-progress, research. Duale cames out from our movement and technology studies for distopia choreography and want to create a space of intervention and improvisation on the relationship between body and technology.
Set up it here in HCM was jot so easy due to our lack of technological equipments: no computers, sensors or cameras. But with the help of new friends we got some hardware to run the performance.
Le Than Theater is an important place in HCM for contemporary dancers that are interested not only in ballet. Seems hard around here find something else than ballet and in this theater they organize an open stage session inviting companies and artist from others countries.