Mediagrid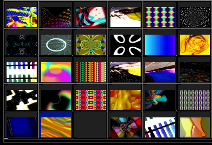 Mediagrid object is a Pure Data abstraction let you pick a file from your disk in a graphical way. You can preload onto the mediagrid a video, image or audio file.
Mediagrid abstraction is inspired from Videogrid external from PDVJtools package by Sergi Lario and Lluis Gomez i Bigorda. The big difference is that Mediagrid can manage also audio files and it works on all platforms.
Mediagrid was developed as part of gemQ project.
For more infos and downloads goto planetQ